US Open final: Rafael Nadal beats Novak Djokovic – as it happened
2019-09-15 点击次数 :273次
Rafael Nadal is the 2013 US Open champion… and it's time for me to wrap things up. So…
.
And down there is a picture of holding a trophy he deserved, thoroughly, to win. In sum, however well he played – and play well he did, mixing some spectacular winners and saves into his usual, punishing insistence from the baseline – it was the ninth game of the third set what won it. In that game, you see, he came back from 0-40, saving the final break point with his fastest serve of the night, for his first ace. He'd been in greater trouble at 3-1 down in that set, having lost the second as Djokovic found energy missing at the start, but having pulled back, to be broken in that ninth game would have been a serious blow indeed. That is of course what great players do.
They also have off-days, which is what Djokovic had here – even his second-set win was slightly despite himself, or seemed it, and his error count was off the scale, relatively speaking.
And lo, Connery and Beckham and DiCaprio and Stiller, as it turns out, and even the Queen of Spain did get to see one great champion beat another. You lot just got to imagine it while trying ignore my fixation with Sir Roger. Lucky you lot. Moore of the same next year it is, then.
Goodnight.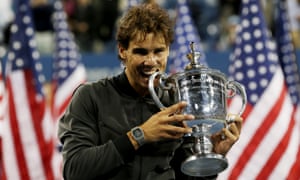 Updated
Rafael Nadal is the 2013 US Open champion
Yes, quite possibly he will, knee allowing. Believe it's 13 grand slam titles he has now, to the Other, Lesser Roger's 17. Pete Sampras had 14.
Updated
Rafael Nadal is the 2013 US Open champion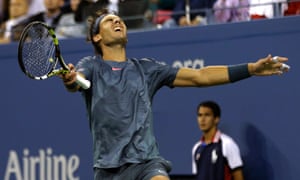 Gracious words from about how well Nadal played – which we have come to expect, of course, from these tennis chaps. Rafael Nadal follows and is correspondingly pleasant about his opponent. When you've just won $2.6m… you can afford to make sure to show your $600,000 watch to the cameras.
Trophy coming up… picture to follow.
Rafael Nadal is the 2013 US Open champion
Not at all, Juliet Gilbertson. Not at all…
Thank you for that! Wonderful!
It was a pretty good game. Shame they didn't go to a fifth set, though. Slackers.
Rafael Nadal is the 2013 US Open champion
Kevin Lee writes:
The only thing holding Nadal from reaching Federer in Grand Slam championships? Djoker, Murray and health. Astonishing, brutal display of physical tennis.
and Su Murray adds:
I don't like to say I told you so, so I'll just say - I rest my case!
Well, nor do I – although I turn out to have misremembered rather. I said Nadal in five, not four. You win some, you lose some. Evidently.
Rafael Nadal is the 2013 US Open champion…
…having beaten Novak Djokovic 6-2, 3-6, 6-4, 6-1.
Updated
Game, set and match Nadal! Djokovic 2-6, 6-3, 4-6, 1-6 Nadal*
Big shusshing in the crowd – daft gits.
Finally we're ready – and they start cheering again.
That's it – Djokovic finds the net with a forehand and Rafael Nadal is the US Open champion again!
Djokovic 2-6, 6-3, 4-6, 1-5 Nadal*
Championship point coming up!
Djokovic 2-6, 6-3, 4-6, 1-5 Nadal*
Winner coming forward again: 30-15.
And we have two championship points
Updated
Djokovic 2-6, 6-3, 4-6, 1-5 Nadal*
Second service… great winner from Djokovic. That's 0-15.
Winner from Nadal coming to the net, as planned, to cut off a passing shot: 15-all.
Updated
Djokovic 2-6, 6-3, 4-6, 1-5 Nadal*
Nadal to serve for the title, then.
Break of service – Djokovic* 2-6, 6-3, 4-6, 1-5 Nadal
Djokovic needs great things now, so he starts this game, naturally enough, with a great little drop shot at the net. And continues with another cheeky drop shot straight at Nadal, and it dies at the Spaniard's feet. He finds the net for 30-15, though. And goes long with an ambitious attempt at a winner: 30-all, and ooh-err it is. And misses left on the backhand and it's breakpoint for 1-5, which would be the point of no return – you'd think.
Second serve… and he misses the winner past Nadal at the net and I think we're nearly done here.
Djokovic 2-6, 6-3, 4-6, 1-4 Nadal*
Djokovic is still fighting – great return forces the error from Nadal for 0-15. But then another unreal rally, Djokovic pressing down on the accelerator but Nadal gets to everything and then plays a stupendous winner on the 25th shot of the point. He then pulls out the big serve again and it's 30-15; and then challenges a serve called out and it was by a mile. The Michael Clarke of tennis, anyone? Djokovic then goes long looking for a winner and it's 40-15.
And the game. Two more for the championship it is.
Big words from Su Murray:
OK I'll just have to have a word with my ol' chum Sir Roger of Moore............... Do bear in mind my predictions are normally correct. I'm not called the Witch of Watford for nothing you know.
Yikes…
Djokovic* 2-6, 6-3, 4-6, 1-3 Nadal
Time to deliver, if you're Novak Djokovic – instead, Nadal delivers a rally that sounds like an exchange of blows (or a flurry) on the ropes – 15-0. Then 15-all as Nadal finally makes another error, long. And 30-15, and 40-15 as Djokovic hits a rather angry-looking forehand winner. The fire still burns, evidently. And the game as Nadal misses long cross-court.
That's one way to get published…
Edward Templar, possibly having had his mental equilibrium unbalanced by the sight of Sir Sean Connery in Sir Roger's rightful place in the crowd – that or the sight of the Queen of Spain, who's here too – offers:
God save Sir Roger Moore
Long live Sir Roger Moore
God save R Moore
Sent us "That Lucky Touch"
Happy and glorious
And "Sunday Lovers"
God save R Moore
See a doctor.
Updated
Djokovic 2-6, 6-3, 4-6, 0-3 Nadal*
We go to 15-all in this latest crucial game, the second point going to Nadal when Djokovic overbalances on a two-handed backhand. And then to 30-15 with more muscular play from Nadal, forcing Djokovic back and bludgeoning an error out of him, in this case into the net. And then Djokovic goes wide when forced wide and it's 40-15. Short order, is it?
It is. Djokovic is reeling on the ropes.
Updated
Djokovic 2-6, 6-3, 4-6, 0-2 Nadal*
I think I'm allowed to say that Nadal now has, undoubtedly, A View to a Kill.
Break of serve – Djokovic* 2-6, 6-3, 4-6, 0-2 Nadal
Two poor errors from Djokovic, Nos 45 and 46 to 18 from Nadal, open this one up and we have a situation on our hands… possibly a rather key one in the context of the game. Boy do we – Nadal wrestles control of a rally and forces Djokovic practically to his knees. Three break points.
Can Djokovic do a Nadal and save them all? The first, yes, easily when advancing behind his serve as if it was covering fire from the artillery. The second… yes, on second serve and with help from the net tape and a raised hand of apology to Nadal. So, the third…
No! A great, great winner from Nadal down the forehand side with Djokovic going for it.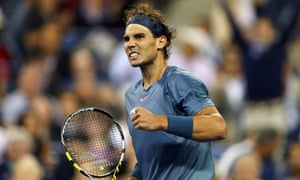 Djokovic 2-6, 6-3, 4-6, 0-1 Nadal*
Nadal serves, a set away from the title – a winner duly flashes by him. The next point produces a skittering, sliding rally which Nadal takes on a long-shot from Djokovic. Late call of fault follows on the serve, and then Nadal makes a miss-timed miss-hit for 15-30. And then Djokovic misses at the net with a little sliced drop shot, trying to be a little too clever.
Oh… wow. Long rally, Nadal tries to end it after 27 shots with a beautiful sliced little dink and Djokovic slides in and digs it out of the court surface and goes cross-court to earn break point. But on the next rally a bounce gets a little big on him, and he misses wide badly. Chance missed. He's three for 10 on break points; Nadal is five from eight. Deuce produces an 11th break chance for Djokovic as Nadal makes the error after another bout of baseline rallying. Saved again – but Djokovic challenges the call… and it was, indeed, a long way out.
I can see Bill O'Reilly. Not in the crowd, though. Don't panic, chaps.
Nadal stretches himself to get to advantage with a decent return of a forceful Djokovic error – and then wins the game, getting away from two break points this time as opposed to three, with an emphatic overhead smash.
Djokovic 2-6, 6-3, 4-6, 0-0 Nadal*
Nadal's doing his headband again. So…
Djokovic 2-6, 6-3, 4-6, 0-0 Nadal*
Mark Elliott writes…
Hi Martin
Maybe one of your Balkan language experts could tell me if Novak is a Djoke (American) or a Djock (British)? It's been bothering me for some time.
Well. Can they?
Djokovic 2-6, 6-3, 4-6, 0-0 Nadal*
I'll buy that.
Third set Nadal – Djokovic* 2-6, 6-3, 4-6 Nadal
Djokovic wins the first point with his 16th winner of the set, then plays his 17th as he continues to look to force the pace. Daft point, utterly silly – and won by Nadal with a delicate touch after overhead backhands and drop-shots and the lot from both of them: 30-15. Unforced error from Djokovic, long from the baseline, for 30-all.
I'm hungry. If one of them needs a wee I can have a sandwich.
Bad error from Djokovic – putting a winner into the net under no pressure at all. Set point for Nadal, from nowhere…
Set to Nadal! Long rally and in the end Nadal's relentless accuracy from the baseline and a half-slip from Djokovic does it.
Updated
Su Murray returns, referring to last year's final:
Indeed we were young then. But now I'm old and wise and I've seen it all before. Mind you, being totally opposed to paying so much as a ha'penny to Murdoch means I can't watch any of the damn matches. Kind of makes it hard to 'call'. Still going with Nadal though. Don't you need a PA or something to attend the matches with you? Now that you've achieved such 'live blogging fame' an all?
In answer… no. No PA. Can't be charged to expenses.
Djokovic 2-6, 6-3, 4-5 Nadal*
Great, great rally opens this one up, and Djokovic wins it with a lob, inch-millimetre perfect, when Nadal had come into the net to follow a drop shot. And then Nadal loses his footing on another absurd rally and it's 0-30 and we have a situation. And 0-40 and three break points as Djokovic digs one in right into the baseline and wins the review too for good measure.
Fiercely done – slamming forehand winner from an excellent return. Huge serve not returned – challenged successfully though by Djokovic and we have a second serve. And then another daft rally, full of every shot you'd think of – if played from the baseline – and Djokovic finds the net. So that's two saved.
Ace – first of the match for Nadal! That was 125mph – his fastest of the match. That was strong, large and immense and other superlatives I haven't time to type. Deuce it is. And another long rally and Djokovic misses one on the backhand left to right. Be a big win, this, for Nadal… Second serve after another big effort – and Djokovic takes him back to deuce by forcing him back and back.
Djokovic goes long from the baseline – I've lost count now, although I'm sure the statistics chaps won't have done so – but he has made 40 unforced errors to 17. And he has, finally, lost this game, nine and a half minutes of it – Nadal gets to smash it away at the net.
Stanley Joshua has a point – I'm not exactly picky. Nor am I, or have I ever been, Barry Glendenning. Not for want of trying. But no.
You just have to mail in today to get published, it seems. Thank god it's not Barry Glendenning. He'd never print this. Djokovic will win this, and your effort will be eulogised as one of the stand out efforts in undermining alongside Rob Smyth's 'Shredding his legacy at every turn'.
Updated
Djokovic* 2-6, 6-3, 4-4 Nadal
Djokovic forces Nadal wide, and to go long, for 15-0, and then fires down his sixth ace for 30-0. Good start to a key game for him. But then finds the net unbidden. But he gets out to 40-15 and then we have another huge rally and Djokovic forces a win and it's the game.
From Hamish Skeggs in New Zealand:
Our dog is called Roger, and I have sometimes made the mistake when discussing Roger of starting the conversation with "Roger my dog…."….oops!!!
Well, quite. I like "Roger Moore", after all, because it is a name that is also an instruction.
Djokovic 2-6, 6-3, 3-4 Nadal*
That was a big moment for Nadal. Very big. And that was another error from Djokovic, hitting the net. An imprecation follows. Djokovic is 11-2 on winners in this set – he's still really going for it, hence the errors.
A call challenged by Nadal and he wins it: the return was just out, and it's 30-0. Great point, Nadal getting to a guaranteed winner and then provoking a missed volley from Djokovic, who swears again. In whichever language.
Double fault – Nadal's first – 40-15. And then Djokovic long for the game.
On the subject of who's Sir Roger…
Break of service – Djokovic* 2-6, 6-3, 3-3 Nadal
Long rally off second serve and Djokovic has everything where he needs it for a big winner, and… slaps a mighty forehand into the net. Hey-ho. The next one, almost identical, he does hit: 15-all. And then an unforced error, one of what must be approaching a metric gazillion for Djokovic, makes it 15-30. Important little point now – and Djokovic wins it with a fierce forehand winner past a very, very deep-lying Nadal. It's 30-all.
Miss-hit from Nadal for 40-30, and then Nadal, staying back but pinning Djokovic back himself, forces the miss-hit in return. Deuce.
76-points apiece it was, a mo ago – and the next point is a big one: break point to Nadal after Djokovic goes long again… and again! Break back!
Childish to pick on a typo, I know, but I like Robert Wright's mention of 'Macdenonian'. Something to do with yoghurt, maybe.
Robert Wright contributes to one of our sub-threads, under the somewhat provocative subject line 'John Howells is nearly right'…
...but, except for a few mad Serb nationalists in the inter-war years, no-one ever thought Macedonian was a form of Serbo-Croat. Macdenonian is almost identical to Bulgarian, which is grammatically very different from all other Slav languages (I'd explain, but, you know...) Also, Slovene, which he doesn't mention, is very different. People in the places that speak "Nasi Jezik" - "our language," as they call it now to avoid the problems of naming it - get very touchy about little things, like the word one uses for "bread", which is taken as a big signifier of, say, which part of Bosnia one's from. When people were trying to make the Serb and Croat variants as similar to each other as possible in the 19th century, they chose the versions that were most similar to each other as the standard versions, to form a mutually intelligible Serbo-Croat language that could be written in two different alphabets.
And who am I, or will I ever be, to argue with that? That's what I want to know.
Djokovic 2-6, 6-3, 3-2 Nadal*
Nadal serving, Djokovic bossing, the ball heading skywards off Nadal's racket, possibly (providentially?) to scone Becks or Baldwin in the crowd. Depends on Sir Roger's mood, obviously.
Djokovic challenges Nadal's first near-ace, and fails: 15-all. Djokovic then misses, just, with a cheeky fend-return and it's 30-15. And another bigun (he's a, rather than I've-a, madam) for 40-15. Good response, this, from Nadal. And a Djokovic error does it.
Djokovic* 2-6, 6-3, 3-1 Nadal
Crowd problems to start with – crowd coming back in with beers. Brooklyn Pennant? Lagunitas IPA? Or, as I rather fear, something corporate and Bud or Miller-ish with the consistency, toxicology and viscosity of rat's leavings?
Serve and volley fails Djokovic on the first point, but the sliced drop shot – disguised to show he can do it too, with backspin – works: 15-all. And then he puts one away for 30-15. Unforced error by Nadal – 40-15. Strong serve for 3-1.
Sounds like a review of . In which I have a declared interest.
Updated
Djokovic* 2-6, 6-3, 2-1 Nadal
More beer thoughts:
Brooklyn Pennant Ale is good, but when in Northern California I think you really need to try something from the Lagunitas Brewery. They are famous for their IPA, but the Pils is probably better in the sunshine.

Cheers,

Ben Mimmack
So who's Sir Roger? Dangerous Dan Evans, perhaps?
Djokovic 2-6, 6-3, 2-1 Nadal*
Some serious authority from Djokovic at the net gets it back to 15-all, and Nadal all of a sudden looks rather haunted. Poor lad. And he finds the net at the end of a mean rally which only happened because Djokovic got to a mean serve, somehow, with a serviceable return: 15-30. Nadal wins a short rally at the net and pumps his fist with rather more conviction than the full Henman. This is starting to matter. Djokovic long for 40-30.
"Let's go Rafa," chant some of the crowd. Do give it a rest, dears. Or come up with something with a little more wit.
Absurd tennis – Djokovic puts away a cross-court forehand winner from the top drawer, as they say. Nadal looks displeased but doesn't challenge. Deuce. Oh, what a winner… forehand, dismissive from the deuce court, off a 114mph serve. Break point again…
Ah… goes long to end another baseline rally. Deuce. Baseline rally follows, as per, and Nadal eventually wins it with a brilliant disguised drop shot Djokovic can't reach. Late call of fault on what would have been an ace, but isn't/wasn't. Djokovic goes long, next, and Nadal survives.
Meanwhile…
Re @FinrThingsInLif, surely Anchor Steam California Lager will satisfy the taste buds while earning extra karma points for supporting San Francisco brewing? May want to buy several, as Djoker looks re-focused, if not necessarily re-energized...
Also, is it really sunny for once in San Francisco?
Keep up the grand work Martin!
-Kevin Lee in Palo Alto, CA
Djokovic 2-6, 6-3, 2-0 Nadal*
US TV ineptitude update…
Djokovic* 2-6, 6-3, 2-0 Nadal
And a great disguised drop shot on an energetic rally and it's a fifth straight point for Djokovic… and another Nadal error for a sixth. Nadal, all of a sudden, is playing like a bag of spanners. Error from Djokovic, long, breaks the run: 30-15. Ace No 4 (to none from Nadal) follows for 40-15, but then Djokovic needlessly finds the net on the backhand. He's still not playing well, exactly, but Nadal's helping him out somewhat. And there Djokovic misses a chance at the net to put it away and the backhand volley isn't enough. Still not very mobile or energetic at the net, Djokovic.
Another long rally of changes of pace and effort follows, and then Nadal goes long under, relatively, no pressure: ace No5 wins the game.
Djokovic* 2-6, 6-3, 1-0 Nadal
Ah, Su Murray. I remember you…
I'm still going with Nadal in 4 sets though.............
Just like last year, I may need a glass or two of wine to sustain me
We were young, then…
Break of service – Djokovic 2-6, 6-3, 1-0 Nadal*
Nadal starts with a second serve and an error into the net, so it's 0-15 and we still sense the momentum shifting, don't we? And we do off that forehand winner from Djokovic to another soft-soap second serve from Nadal. Great shot! And the error long from Nadal and he challenges – it was well out. So it's 0-40 already. And Djokovic forces the point for the win.
Nadal is using the video technology about as well as the Australian cricket team. Which isn't well.
Djokovic 2-6, 6-3, 0-0 Nadal*
Djokovic 2-6, 6-3, 0-0 Nadal*
In explanation:
My name is Mark in Abuja,Nigeria I sent mail that mail that I'll surely name my son after Nadal. It shows you how shaky I am here because of the way the second set is going but... Go ooooooonnnnnnnnn Nadal-llllllllllllllllll
I'm still for Roger. Even for a girl. Not having been able to persuade my wife on the first one.
Shirt changes for both men. Meanwhile, John Howells is a helpful and nice man…
You ask if Serbo-Croat is a language? It is a generic term for the language of the former Yugoslavia, but now Serbian, Croatian, Montenegrin, Croatian, Macedonian and Bosnian are the respective languages of the former Yugoslavia components. They are very similar but not identical as each will have you believe.